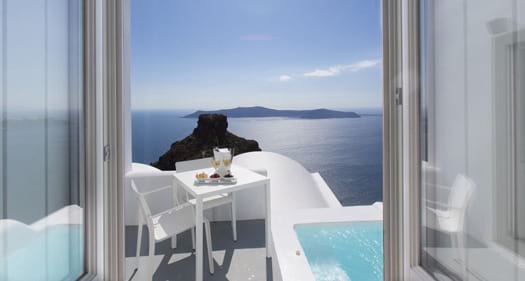 Crisp, minimalist and simply marvelous, Grace Santorini skips the ornamentation for vast swatches of pristine white and sea views that stretch to infinity. The heated infinity pool — which cascades down the cliffside — is truly spectacular. Come sundown, the new champagne lounge provides breathtaking views of the Caldera from its location 363 meters above sea level. Most of the 23 bespoke rooms feature outdoor plunge pools; the new top-end suites have private infinity pools, while the 400-square-meter Villa offers a private heated pool and SPA. Each stay is customized — from your choice of pillows to a range of island experiences.
Grace Santorini is an exclusive boutique hotel in Santorini, Greece, perched above the world-famous Caldera with breathtaking views and sumptuous sunsets. Innovatively refurbished rooms and suites showcase a contemporary style, combining cutting edge, bespoke design alongside traditional handcrafted pieces whilst the luxurious bathrooms offer double vanity units with marble carved basins and spacious rain showers with mosaic feature walls.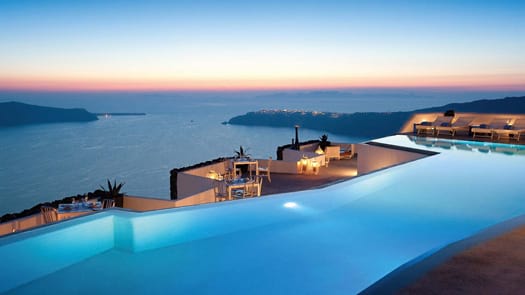 The new Champagne Lounge provides breath-taking views of the legendary Santorini sunset, where guests can enjoy the finest Champagnes and cocktails together with Chef Spyros's signature dishes. Meanwhile, the award-winning Santoro restaurant provides a unique menu that is influenced by Chef Spyros's passion, the flavours and produce of the Cycladic islands, the distinctive cooking of Greek villages and select elements from contemporary worldwide cuisine.
Those who are looking for an enhanced wellness holiday will benefit from our new dedicated yoga and Pilates studio with adjoining fitness area, where we offer daily complimentary yoga sessions. The pride of this romantic escape is The Villa – a 400 sq m double suite offering the ultimate luxury on Santorini island with the perfect view of Greece's Aegean Sea amid privacy and tranquillity. Ideal for couples or small groups, it has its own private spa and kitchen, a huge private pool and extensive secluded sunbathing areas.
It is the ultimate expression of a boutique hotel in Santorini, a true jewel of the islands, and one of the best in the Mediterranean. With our iconic infinity pool offering an uninterrupted sea view, luxury accommodation in Santorini has never been better situated – the perfect boutique hotel in Santorini for a holiday or honeymoon.
Pro Tip
The awarded Santoro restaurant, where Greek Mediterranean cuisine meets contemporary trends, is not to be missed.
Virtuoso Amenities For 2017-2018:
Upgrade at time of arrival, subject to availability
Complimentary full breakfast for two daily for duration of the stay served in our restaurant
Complimentary one-way private airport transfers
A complimentary private yoga class for up to two people, per room, once during stay
Early Check-in/Late Check-out, subject to availability
Complimentary Wi-Fi
images courtesy of and © Grace Santorini
Grace Santorini Imerovigli, Thira 847 00, Greece
Explore More in Greece
Vedema, A Luxury Collection Resort
An exclusive world unto itself.
A private enclave of whitewashed villas, you'll be mesmerized by the resort's unspoiled beauty, gracious hospitality and unabashed romance.... read more
Santorini For Foodies
From Mom's Kitchen to the Finest Gourmet Cuisine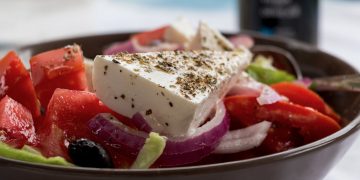 For the true food lover nothing beats a private experience learning the history and the how-to's of the famous Grecian... read more