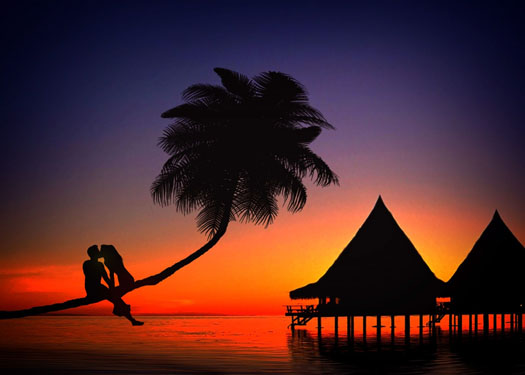 Known for luxurious private islands, all inclusive resorts, spas, culinary excellence, and outdoor adventures, Fiji is truly one of the most gorgeous places on planet earth.
While the islands have lazy, palm-lined beaches and colorful coral reefs like the rest of the South Pacific, the people of Fiji set them apart, making your visit utterly enchanting. Fiji is widely celebrated for its culture, which uniquely welcomes visitors home. From secluded, exclusive resorts to quaint guesthouses on the beach to simple accommodations with local villagers, you'll find a broad variety of places to stay while you're there.
The Great Outdoors
Fiji is blessed with 333 islands; just over 100 are inhabited and all are beautiful. The two largest, Viti Levu and Vanua Levu are the most populous, with dramatic landscapes and sharp peaks punctuating lush vegetation.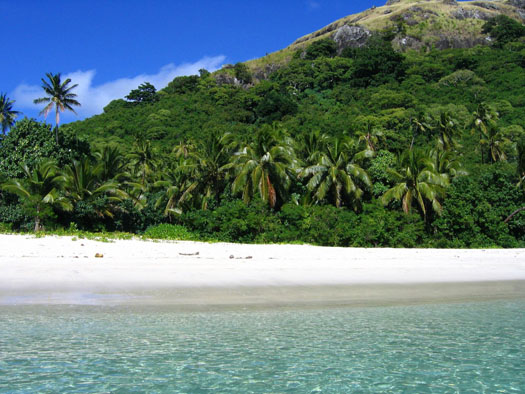 You'll find Fiji an ideal destination for exquisite scuba diving, snorkeling windsurfing, and all manner of beach activities. Organized ocean kayaking tours are available to the Yasawa Islands, Kadavu and Taveuni.
Just about all the outer islands have spectacular hiking. Range up grassy hillsides or trek age-old trails between Fijian villages. The Koroyanitu National Park and the Nausori Highlands on the western half of Viti Levu also offer great hiking opportunities. The eastern half of Viti Levu has hiking options as well, though the dense rainforests make it more challenging.
A professional white-water-rafting operation is based at Pacific Harbor on southern Viti Levu. Its rubber-raft trips carry visitors through the deep gorge of the turbulent Upper Navua River. The Lower Navua River is still very picturesque, with waterfalls plunging from the cliffs, and it's possible to drift down on a bamboo raft or ride in a motorized canoe.
Nadi
The bustling, multi-cultural town on Veti Levu is home to Fiji's international airport and a hub for travelers. You'll find an abundance of shopping opportunities, Hindi and Fijian music, and exceptional dining opportunities. An wide array of tours and shuttles are available to take you to the beaches and other attractions on Fiji's largest island.
Mamanuca Islands
This exotic chain of islands is just a short boat trip from Nadi. With luxurious resorts and stunning white sand beaches, you'll fall in love with this slice of paradise. Go dolphin watching, parasailing, windsurfing, scuba dive famous sites, and enjoy some of the best surfing in the world.
Yasawa Islands
The remote Yasawa Islands make up the wester border of Fiji. Statuesque, grass covered peaks rise from the sea with brilliant, porcelain beaches and crystal waters in shades of turquoise and cerulean. The Yasawa Islands offer a break from civilization. You'll find no shops or banks here, just sunshine, pristine wilderness, and a range of backpacker resorts.
Vanua Levu
Fiji's second largest island is less tourist-oriented than the larger Viti Levu, but you'll still find plenty to see and do. The unspoiled rainforest of Wasali Nature Reserve is full of hiking trails that will take you to spectacular views. Tour the Snake Temple near Labasa, dive among the soft corals, and spend some time just exploring along the Hibiscus highway.
Taveuni
This eco-tourist's dream destination is known as the Garden Island and for good reason. Full of nature reserves, Taveuni is teeming with native plants and wildlife. Visit the marine park at Waitabu which boasts an impressive rainbow of fish and coral. Taveuni is also known for famous dive sites like Eel Reef and the Great White wall. You'll find incredible hiking ni the Bouma National Heritage Park and world-class birdwatching all over the island as it is home to Lorikeets, Silktails, Orange Doves, and 100 other species of exotic avian life.
Suva
Fiji's capital and largest city is oft heralded as one of the most Cosmopolitan cities in Oceania. A highly multicultural center, Suva has all the trappings of a large city – shopping, malls, farmers markets, exquisite dining, entertainment and an enormous range of cultural activities. Though many buildings date back to colonial times, Suva is definitely a modern city. From parks to museums, to a vibrant nightlife, there's no shortage of intriguing activities to choose from.
Lau Islands
Venture off the beaten path to glimpse Fiji as not many tourists get to see it. The Lau Islands in the far east are few and small. Life here is simple and a little on the wild side. You'll find no restaurants and only 3 islands have accommodations for outsiders. If you're looking for a place that is utterly unspoiled, with a solid dose of the famous, traditional Fijian hospitality, the Lau Islands are the perfect choice for you.