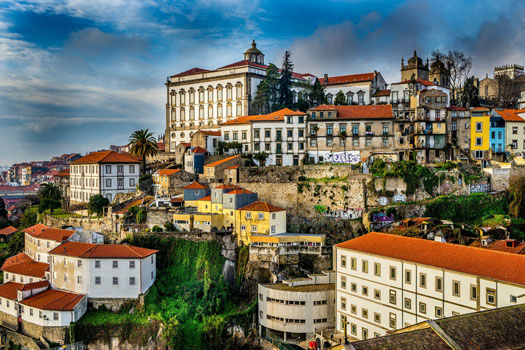 Sun-drenched beaches, exclusive golf resorts, medieval hilltop towns, colorful fishing villages, a cosmopolitan capital, the vine-filled valley of the Douro, wild remote mountains—Portugal has it all. Although Europe's oldest country is undergoing a profound modernization, things still move a bit more slowly in Portugal, devagar as residents say, and some 16 million tourists seem to like the pace.
There is no better way to experience Portugal than to sit down in a street cafe with a bica (espresso) or a glass of port as you watch the world go by. And when you leave Portugal, you will probably feel saudades (a feeling of longing for something that is gone but might return).
Endless Variety
Visitors are spoiled for choice by Portugal's rich and storied heritage, with sights that range from the UNESCO World Heritage site of prehistoric art at Foz Coa to the ultramodern architecture in major cities.
You'll find at least one museum in all towns of significant size, many of them containing ethnographic and archaeological artifacts as well as religious artwork, local history and an insight into the lives of locals.
Rich History
You'll find the remains of several Iron Age and Celtic settlements in the North, and evidence of Roman occupation can be seen throughout the country. One of the best Roman sites is Conimbriga, near the city of Coimbra.
Peppered throughout the country's hills, plains and valleys, are picturesque medieval villages where local traditions have reigned for centuries and ruined castles stand as silent witnesses to former battles over territory. As well as gorgeous castles with great views, there are magnificent palaces that belonged to royalty and wealthy families, many of which contain original furnishings and decor, particularly in the areas around Lisbon and Sintra.
The larger towns and villages contain magnificent buildings including Romanesque and Gothic cathedrals and monasteries, 16th-century Manueline masterpieces—the Jeronimos Monastery and Belem Tower in Lisbon are two outstanding examples—and baroque churches and manor houses.
Portuguese wine is beginning to get the international recognition it deserves; each region produces distinctive wines and wine tourism is booming, making it easier than ever to tour vineyards and wine-making facilities and taste the results. Alentejo and Douro wines are especially popular, as are the young white vinho verde wines from the north. The Douro Valley demarcated wine region has been awarded UNESCO World Heritage status for its unique, dramatic scenery and culture.
Pro Tips
Check the tide charts if you plan to walk along any beaches in the Algarve—some beaches disappear during high tide.
Don't assume the Portuguese will speak Spanish and make sure to learn a few basic phrases in Portuguese; they are quite proud of their language.