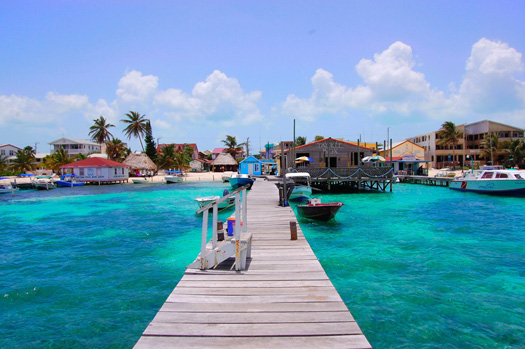 Tourism has been booming in Belize for the last few years, making it a little less wild than it once was, but also a little more comfortable for visitors. Ecotourism and educational tourism are particularly popular in this little, Central American Paradise.
Ambergris Caye, is Belize's most popular destination. Here you'll find a nice, mix of laid back living and watersports alongside best restaurants and nightlife the country has to offer. Caye Caulker, Hopkins, Placencia and San Ignacio are also quite popular. If you're looking for a more authentic experience, up-and-coming spots like Punta Gorda, Corozal Town and Sarteneja remain almost entirely unspoiled by mass tourism and are inexpensive to boot.
BY SEA
Home to the second longest barrier reef in the world, Belize is a mecca for snorkelers and scuba divers. Splash with the waterfalls at Rio on Pools, float through colorful coral gardens in pristine atolls, and explore the depths of the Blue Hole. Gladden Spit is a renowned spot for whale sharks and Shark-Ray Alley is chock full of stingrays and nurse sharks.
Anyone visiting Belize simply must devote at least a few days to her pristine waters. Go diving, snorkeling, or deep-sea fishing along the famed reef. Explore the 200 plus islands (called cayes and pronounced keys) that pepper the coastline. Some are big enough for guesthouses or even small villages while others are so small they can barely accommodate a boat docking there.
The reef itself and its exceptionally clear waters are absolutely stunning. You'll see coral gardens, sharks, manta rays, barracuda, blue-striped grunt fish, green moray eels, and bottle-nosed dolphins. Whale sharks visit southern Belize between April and June and there are plenty of opportunities to witness the largest of all fish.
BY LAND
Strike out on the trails of the Rio Bravo Conservation Area and Cockscomb Basin Forest reserve where jaguars roam amid the lush greenery. Explore the vast expanses of rainforests, rich with exotic animals and birds. For a serious dose of mystery and history, head out to see Mayan ruins which are plentiful here.
Back on the mainland, you can climb 1,500 year old Mayan ruins deep in the rainforest and then retire to your luxurious jungle lodge. Go hiking or mountain biking through Mountain Pine Ridge, the country's largest forest reserve, then cool off in one of its many, beautiful waterfalls. Experience cave tubing in underground rivers and explore ancient caves where you can see Mayan relics and human skeletons.
Shopping
While Belize lacks the crafts tradition of most other Central American countries, there are still quality finds to be had. Lovely Mayan baskets as well as carvings in slate, mahogany, zircote, and other rainforest woods are beautiful souvenirs to take home. You may find some Garifuna crafts such as dolls and other folk art. If you're very lucky, you may find some authentic, ceremonial objects for sale. Marie Sharp's hot sauce and Belizean One Barrel rum make great gifts to take home as well.
Rainforest products and natural remedies are plentiful and you'll find craft items like textiles, weaving, and leatherworks from Honduras and Guatemala in some Belizean gift shops. Steer clear of anything made from coral, sea turtles, or other endangered species.
Explore some of our favorite attractions and hotels in Belize