Greek Gourmet Delights
Eating is a way of life for the Santorinians and for the Greeks in general. Restaurants are not a place to have a bite to eat before an evening of entertainment, eating out IS the entertainment. And whether you go to a local tavern or to a gourmet restaurant you will see that the Greeks take their time over food.
Traditional Santorinian dishes include the fava dip, a salad with cherry tomatoes with chloro cheese, the santorini cucumber 'Katsouni' and capers, tomatokeftedes (tomato rissoles), and the round fat baby courgettes grown locally. Favorite main courses are dishes of grilled meat, or seafood such as octopus, squid, red snapper and kalamari. Santorini also grows its own watermelon, which is small, dark in color and has an excellent taste.
Santorini boasts a number of excellent dining options, ranging from tiny cafes to upscale, gourmet restaurants. For the true food lover, however, nothing beats a private experience learning the history and the how-to's of the famous Grecian cuisine. We make these experiences possible with the help of our fantastic, Virtuoso on-sites. Here are a few examples:
Santorini Foodie Experience
by Greece A La Carte
You will be welcomed at the Selene Restaurant with fresh juice, coffee and traditional Greek cookies and a lecture by Yiorgos Hatziyannakis will give you an introduction to the cuisine of the Cycladic Islands and particularly of Santorini.  Following the lecture, we will introduce to you the unique local products of our island of unusual indigenous herbs and vegetables: white eggplant, capers and caper leaves, fava (small yellow peas), exquisite baby tomatoes – all grown virtually without water.
We will then introduce you to the Santorini wine, to the grape varieties and to the Santorini vineyard, and you will have the chance to sample four different wines in the wine tasting we have arranged for you.
Cheeses and sausages from several other Cycladic islands, including Naxos, Syros, Ios, Tinos, brought especially for this occasion, will accompany the wines.
At about 12:00 the presentation and the demonstration of four different recipes will take place. You will learn how to prepare an entire Greek menu: an appetizer, a salad, a main course, and a dessert.
Fava with tomato caper sauce or Tomato fritters (tomatokeftedes)

Eggplant salad with octopus or Taramosalata

Rabbit with egg- cheese sauce or Lamb in grapevine leaves

Cheese and honey sweet pastry or Melitinia (traditional Santorini cookie)
After we have prepared the dishes, at about 2.00 p.m. you will be able to enjoy the fruits of your labours accompanied by an optional bottle of delicious wine from Santorini.
Cooking Lesson with a Greek Mom
by Travel2Greece by Travelive
Join a Greek Mom in her kitchen and take part in an interesting hands-on cooking lesson where you will prepare an authentic meal that will be served and enjoyed family style, in the warmth of her home.
Hear about and take notes of the established traditional techniques for preparing Greek dishes and learn more about the fresh ingredients, and the local Santorini produce and fragrant herbs that are the secret of a healthy Mediterranean diet.
During your incredible cooking lesson, you will have the opportunity to discover and prepare mouthwatering creative dishes that are made to traditional Greek recipes, and what better way to have a gastronomic experience than with a Greek mom who has had her culinary skills passed down to her through generations of her family.
Finally, experience the enthusiastic welcome at her dinner table to share and savor the delicious dishes that have been prepared accompanied by the fine wine of Santorini.
PLEASE NOTE: There are several menu options (chicken, beef, minced beef, fish, vegetarian and pita)
Explore More in Santorini
Vedema, A Luxury Collection Resort
An exclusive world unto itself.
A private enclave of whitewashed villas, you'll be mesmerized by the resort's unspoiled beauty, gracious hospitality and unabashed romance.... read more
Grace Santorini
Elegance & Stunning Views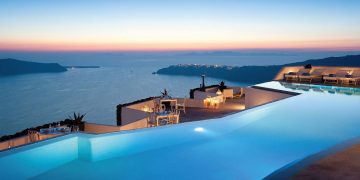 Crisp, minimalist and simply marvelous, Grace Santorini skips the ornamentation for vast swatches of pristine white and sea views that... read more