Like No Other Place on Earth
It's no surprise that the Galapagos islands, 600 miles off the coast of Ecuador, are so special. Penguins and dolphins, sea lions and iguanas, tropical birds, and giant tortoises come together in this single, truly unique destination on the equator. The Galapagos' remoteness from other landmasses and the absence of human settlements until the past century has allowed their animal inhabitants to live with little fear of predators. As a result, the islands have an abundance of animals, birds and reptiles with whom you can get up close and personal.
The Galapagos are perhaps best known as the home of giant tortoises that can weigh up to 500 lbs and live over 100 years. Visitors will also see marine iguanas (the only seagoing lizards in the world); scarlet-breasted frigate birds; blue-footed, red-footed, masked and Nazca boobies; tiny penguins at home in the tropics; mammoth sea lions; and giant, graceful albatrosses. About half of the species are endemic to the islands, found nowhere else on Earth.
Volcanic in origin, the archipelago has 13 large (and six lesser) islands whose terrain is mostly stark and barren, consisting primarily of a lava rock- and cacti-filled landscape in an arid climate. However, volcanos and cloud forests dominate the highlands of the larger islands, with lush vegetation and cooler temperatures.
Charles Darwin's five-week stay in 1835 led him to note that some species of birds had changed both physically and behaviorally because of their environment and evolved into distinct species over time. His famous book On the Origin of Species by Means of Natural Selection (1859) and the theory of evolution were influenced greatly by what he saw there.
These days, you're most likely to see the islands as part of a cruise tour. Small boats, or pangas, drop travelers off on individual islands, where knowledgeable naturalists will introduce you to the lifestyles and mating rituals of the native species. Swimming and snorkeling are possible at most sites and are often enhanced by curious sea lions, sea turtles, an occasional penguin and scores of tropical fish. The marine environment of the Galapagos is a protected area; it is one of the largest marine reserves in the world after the Great Barrier Reef and newer reserves in Antarctica and Hawaii.
Strict rules imposed by the Galapagos National Park require that licensed guides accompany all visitors and that visitors stick to the 60 designated sites on the islands, most of which are uninhabited. Visitors may walk only on marked trails and cannot touch or feed the animals, even though the animals often come close.
Shopping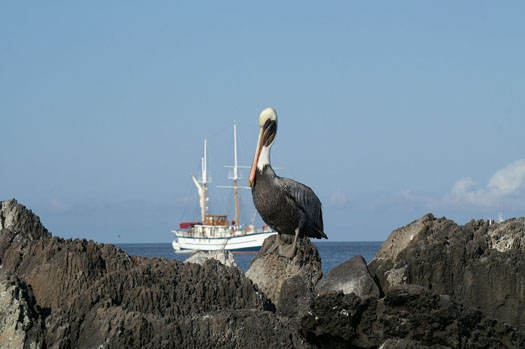 Most cruise ships sell some souvenirs and T-shirts in their gift shops, and inhabited islands are full of stores selling everything from T-shirts and fridge magnets to art and artisan jewelry. The best shops are in the town of Puerto Ayora on Santa Cruz Island, where nearly every visitor spends at least part of a day. Avenida Charles Darwin, which runs between the harbor and the Charles Darwin Research Station, is lined with vendors and small boutiques selling items such as carved-wood turtles, boobies and other animals native to the islands. Postcards, photographs, weavings, jewelry and other mementos are available.
The best place to buy T-shirts, as well as books about the island, is the gift shop at the Charles Darwin Research Station. The quality is high, as are the prices, but proceeds benefit the station's preservation efforts. There are also several shops near the harbor of Puerto Baquerizo Moreno on San Cristobal Island. For last-minute souvenirs, both the San Cristobal and Baltra airports have several gift shops.
For an everyday necessity, the best place to go is Avenida Baltra on Santa Cruz, which begins at the harbor and runs perpendicular to Avenida Charles Darwin opposite the pier. There, local tiendas (shops) sell food, clothing and more. Pharmacies, travel agencies and a hospital also line the street.
Pro Tip:
Do not purchase items made from black coral, turtle shells or any other living creature, as these are protected.