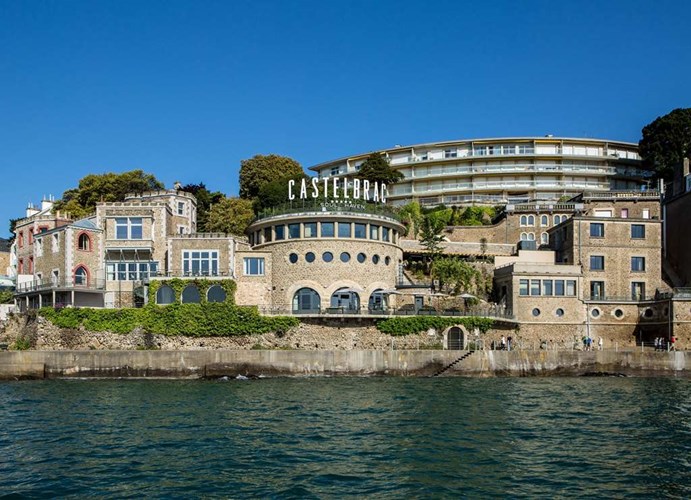 France's Emerald Coast flaunts its latest gem, Hotel Castelbrac. In truth, the one-time villa has sparkled here for nearly 150 years. Once a marine research station, today it makes a perfect base for visitors exploring Normandy's D-Day beaches and Mont Saint-Michel. The hotel overlooks St. Malo & the Channel Islands, situated on the site of Lord Hamilton's famous villa and of the old Museum of Natural History.
Each of the 25 rooms has its own character and a lovely view of the sea. Healing and relaxation are found in the small spa suite, unique lap pool and solarium.
Take time to pedal around Dinard on one of the hotel's complimentary bicycles.
Le Pourquoi Pas gourmet restaurant serves locally sourced seafood and fish with gorgeous views, while the old aquarium museum has been cleverly converted into a cocktail bar.
Hotel Tip: During warmer months, the hotel offers tours along the Côte d'Emeraude aboard its rare 40-foot wooden speedboat, built entirely by hand in Brittany.
Virtuoso Amenities For 2017
Upgrade at time of arrival, subject to availability
Complimentary Continental Breakfast for two daily for duration of the stay
Sunset Cocktail on our private boat during summer (from April to October) or choose 30 mm massage per person one time during the stay
Early check-in/Late check-out, subject to availability
Complimentary Wi-Fi
images courtesy of and © Castelbrac Hotel
Castlebrac Hotel 17 Avenue George V, 35800 Dinard, France
Explore some of our favorite attractions and hotels in Normandy
Ferme St Simeon
An impressionist painting come to life.
Sunlight playing off the grounds at Ferme Saint Simeon might well remind you of an Impressionist painting. And for good... read more
D-Day Beaches
The D-Day Beaches
The Atlantic coast north of Bayeux, France is still littered with the remnants of WWII battles as well as museums... read more