Golf's Most Hallowed Ground
For golfers there is simply no finer course than the legendary Old Course St. Andrews.  The history, layout, and beauty make The Old Course a dream for any golf enthusiast.
Considered the oldest golf course in the world, the Old Course is a public course over common land in St Andrews, Fife, Scotland. The Royal and Ancient Golf Club of St Andrews club house sits adjacent to the first tee, though many clubs have playing privileges on the course, along with the general public.
The Old Course at St Andrews is considered by many to be the "home of golf" because the sport was first played on the Links at St Andrews in the early 15th century. These legendary greens were pivotal to the development of the game of golf. Back in 1764, for example, the course had 22 holes. Members would play the same hole going out and in with the exception of the 11th and 22nd holes. Eventually, it was decided that the first and last four holes were too short and should be combined, which is how the standard of 18 holes was created.
One of the unique features of the Old Course are the large double greens. Seven greens are shared by two holes each. The Swilcan Bridge, spanning the first and 18th holes, is an recognized as an icon of the sport worldwide. Everyone who plays the 18th hole walks over this 700-year-old bridge, and many farewell photos of the most  famous golfers in history feature the bridge.
Pro Tips:
Tee times on this famous course are notoriously hard to get, but don't worry, we've got the connections to get you on the links with a guaranteed tee time.  Even so, reservations are required well ahead of time, as are a letter of introduction from one's home club and a handicap certificate.
We recommend you stay on site at the Old Course Hotel, a fabulous Virtuoso property.
select images courtesy of and © The Old Course Hotel
Explore More in Scotland
Old Course Hotel
The Home of Golf
Every golfer aims to visit the Old Course Hotel, Golf Resort & Spa at least once — 144 stunning rooms... read more
The Torridon
Exclusive luxury with the personal touch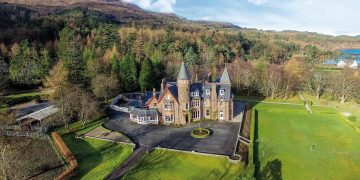 You have to make an effort to get to The Torridon, tucked away in this beautiful corner of the Scottish... read more