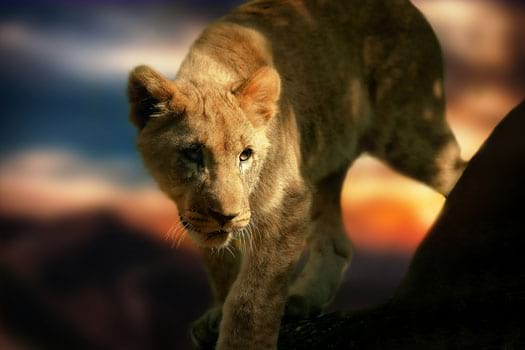 Micato's grand, glamorous, unabashedly luxurious safaris are central to East Africa's heritage as one of the world's most desired destinations.
Favored by princes and princesses, potentates, plutocrats, and ex-presidents (Teddy Roosevelt's epic 1909 safari was one of the first of its sumptuous kind) This Grand Safari is Micato's homage to those old and romantic days, to their indulgent and exquisite grace.
The Micato Grand Safari's six flights make travel between game preserves and luxury camps a seamless, time-saving joy. Your stays in places like the airy Tortilis Camp in Amboseli; Bateleur or Governor's Il Moran camps in the Maasai Mara; the charmingly luxe Four Seasons Safari Lodge in the Serengeti; and, of course, the Fairmont Mount Kenya Safari Club bring you into close and comfortable contact with some of Africa's richest game lands and most stirring landscapes.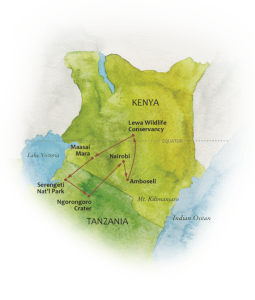 Experience an abundance of wildlife including eland, kongoni, wildebeest, gazelle, oryx, and zebra against the backdrop of Mt Kilimanjaro.
Encounter large elephants and observe their complex greeting and social rituals. Discover zebra, rhinos, reticulated giraffes, gazelles, warthogs, impalas, cape buffalos, and bush bucks in their natural habitat. Observe giant crocs and hippos basking in the river and float above the plains and herds in a hot air balloon.
Safari Highlights
East Africa's most luxurious tented camps and lodges, including splendid Bateleur Camp, much-celebrated Four Seasons Safari Lodge Serengeti, and the elegantly eclectic Ngorongoro Crater Lodge.
Guided rhino-tracking treks; tree-top canopy walks in the Ngare Ndare Forest; Samburu-led camel rides on the plains; horsebacking; and graceful hot air ballooning at sunrise followed by al fresco breakfast.
Touchdown to takeoff services of your Micato Safari Director, and 24-hour access to our one-of-a-kind Concierge Service.
Spectacular views and incomparably fascinating ecosystems: regal Mount Kilimanjaro; the Serengeti Plains; the famed Mara River; the Laikipia Plateau and jagged Aberdare mountains; and the Lost World of the Ngorongoro Crater.
Lunch at home with Micato founders Felix and Jane Pinto.
images courtesy of and © Micato Safaris
Explore some of our favorite attractions and hotels in Kenya