Leahi (Diamond Head), the iconic, dormant volcano on the island of Oahu offers some of the most awe-inspiring views on the planet.
Diamond Head Crater is just a short car or bus ride from Waikiki. From there, getting to the top involves a moderately challenging trail with two sets of stairs, totaling 175 steps, as well as dark, underground tunnels and old military bunkers that require a flashlight. The stunning views that greet you at the top of the volcano are well worth the effort.
Known as Leahi (brow of the tuna) in Hawaiian, the crater was named Diamond Head by 19th century British sailors who thought they discovered diamonds on the crater's slopes. These "diamonds" were actually shiny calcite crystals that had no value.
Open daily, 365 days a year, from 6 a.m. to 6 p.m., including holidays. Parking at Diamond Head State Monument is limited. Last entrance to hike the trail is 4:30 p.m. Admission is $5 per cars and $1 per pedestrian.
Pro Tip:
We recommend scheduling Leahi for a Saturday – Start out in the morning with a visit to the Kapiolani Community College Farmer's Market . Oahu's premier farmer's market is located across the street from the monument entrance on Monsarrat Avenue and showcases locally grown food and produce.
To avoid the crowds, visit the monument in the afternoon between the hours of 1 and 4 p.m. Bring bottled water and good hiking shoes. Pay the $5.00 entrance fee to get into the State Park, then trek on your own time.
Diamond Head Honolulu, HI 96815
Explore More on Oahu
Four Seasons Resort Oahu at Ko Olina
Chic and light-filled with vast ocean views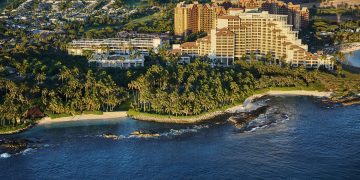 The celestial setting of the Four Seasons Oahu at Ko Olina makes an idyllic escape where guests can stroll their... read more
Pearl Harbor
In honor of those who served and sacrificed.
Pearl Harbor is an active military base, Headquarters of the Pacific Fleet, and a National Historic Landmark that's home to... read more