Nestled in Banff National Park, just a 2 hour drive from Calgary, you'll find the startlingly turquoise waters of Lake Louise. In the summer, canoeing, hiking, mountain biking, and climbing are all a huge draw.
The lake is transformed as the waters of Lake Louise freeze each winter beneath the Upper Victoria Glacier. The frozen surface forms one of the most beautiful, natural skating rinks on the planet. A perfect winter getaway in a wonderland of ice and snow.
On the Ice
The Chateau Lake Louise is almost as famous as the lake itself. The hotel maintains a free-skate oval that parallels a mini hockey rink where you can join in a game of "shinny", a fresh-air, no checking version of hockey. (no protective gear required) Pond hockey is as Canadian as maple syrup and many consider it the purest form of the game. A great many NHL players honed their skills on ponds across Canada. No worries if you aren't an NHL player, the Chateau rents skates, sticks, and pucks and all skill levels are welcome in the pick-up games.
Of course, if you prefer your ice sans stick & puck, the free skating oval is delightful for the casual skater, complete with an ice castle.
Into the Woods
The wilderness surrounding the lake offers no shortage of recreational activities. In the summer, canoeing and hiking are favorites. In the winter, don a pair of snow-shoes or cross country skis and head out with Certified Mountain Adventure Guides, who combine instructional skills with natural and cultural history expertise, leading groups through the silent forest every day. They also direct night tours, complete with constellation identification, for those who prefer their sylvan playground Robert Frost-style: "lovely, dark and deep."
Let us arrange rentals of snowshoes, cross-country ski gear, and other types of winter recreation accessories you fancy ahead of time.
Hit the Slopes
The annual Lake Louise Alpine Ski World Cup draws the best skiers from around the world. Luckily, the rest of us can ski these world-class runs year-round. Lake Louise Ski Resort boasts 4,200 acres of skiable terrain, making it one of the largest ski resorts on the continent. The ridgeline provides the most spectacular views of the Bow Range and is accessible to all skill levels.
Pro Tip:
If the ridgeline views aren't high enough for you, we can arrange for you to soar over the Canadian Rockies in a helicopter.
Lake Louise Improvement District No. 9, AB, Canada
Explore More in Canada
Fogo Island Inn
At once radically contemporary and resolutely traditional.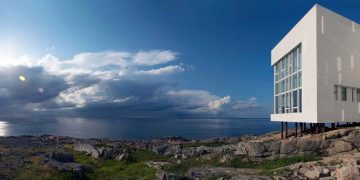 Fogo Island Inn sits on an island, off an island, at one of the four corners of the Earth.... read more
The Fairmont Chateau Lake Louise
Experience the most breathtaking mountain escape Banff National Park has to offer.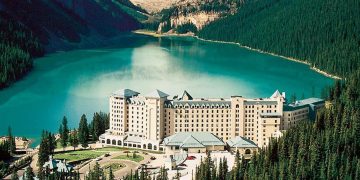 The iconic Fairmont Chateau Lake Louise is surrounded by soaring mountain peaks and pristine wilderness with unobstructed views of the... read more