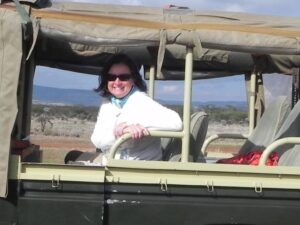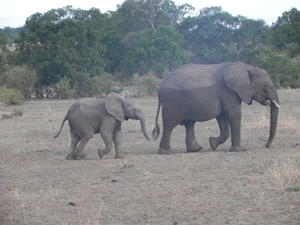 "Africa is mystic; it is wild; it is a sweltering inferno; it is a photographer's paradise, a hunter's Valhalla, an escapist's Utopia.  It is what you will, and it withstands all interpretations.  It is the last vestige of a dead world or the cradle of a shiny new one.  To a lot of people, as to myself, it is just 'home'.  It is all these things but one thing – it is never dull."  Beryl Markham – Pilot, Adventurer.
Africa, I had dreamed of going on Safari for years.  I decided if I was going, I was going to go with a reputable, well-known safari tour company.  I chose Abercrombie and Kent for a variety of reasons.  First, I had taken a trip with them years ago to Egypt and knew they were a wonderful company to travel with, and secondly, I really liked the itinerary they offered for Kenya, and I knew they had expert guides.  So I forged ahead, made my reservation, and was on my way.  Air schedules took a bit more to work out.  I decided since it is such a long journey I would break it up for both going and returning in a connecting city.  London, which is always a favorite of mine, worked out well with the flight schedules.  Luckily my work colleague Shirley decided she would like to do this trip also.  So great, I had a traveling buddy and plans were set.
We started our trip by staying over night in London at the wonderful Egerton House hotel in Knightsbridge.  This hotel is more like a private home with only 28 rooms.  You really feel as if you are staying in someone's private London home.  A great location, close to Harrods,  Knightsbridge shopping, and only a short walk to the South Kensington Museums and the area's  wonderful restaurants.  This hotel is definitely one of my favorites now in London.  They have a fantastic intimate bar, great martinis, and cosmopolitans.  It was wonderful to have tea by the fire upon arrival and anticipate our flight to Nairobi.
Our small plane held about 20 people, but it was a very good flight.  Upon arrival in the Mara (which I fell totally in love with) we landed on an airstrip that had zebras grazing just yards away.  You could see forever in each direction and animals were everywhere.  We got in to our Land Rovers and headed to our first camp, the Sanctuary Olonana, located on the Mara River.
We were in tents, but not like any tents I have ever been in.  They have wooden floors with 4 poster beds and a canopy.  A private bath with a full shower, a writing desk, and a hue verandah overlooking the Mara River and the hippos.  As I said, I have camped but NEVER like this.  The Olonana is small with only 14 tents.  It has a lovely outdoor pool to cool off in, a spa with fantastic spa treatments, a library, and a wonderful restaurant overlooking the Mara River.  Everything about this place is top notch, from the tents to the food.
Our last day, after our morning game drive and saying goodbye to all the wonderful animals, we boarded our flight back to Nairobi.  We were there by lunch time and had a chance to have lunch at the A & K's owner's home in Nairobi.  Geoffrey Kent keeps a house there called Bahati.  It is a lovely home and not far from the Karen Blixen original homestead.  With its beautiful gardens it was a nice way to end the trip.  After lunch we drove back to the Norfolk Hotel where we started our journey.  Our stored luggage was brought to our day room which we were able to use until our evening flight to London.
We flew back to London and ended this wonderful trip at the Goring Hotel.  The Goring Hotel is now my new FAVORITE hotel in London.  I have stayed at many 5 star hotels in this city, but to me this one is the best.  A great location, a great staff, wonderful rooms, and we happened to be in London on the exact day the announced news of William and Kate's engagement was made.  The champagne was definitely flowing in the bar at The Goring that night.
Africa truly should be on everyone's bucket list.  It is definitely a trip of a lifetime and should not be missed!
JULIE TOURVILLE
Personal Travel Advisor
For more information about this trip and others, click here!