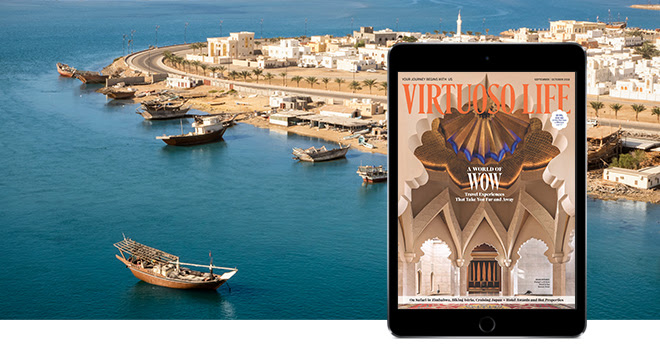 When it comes to high-end travel, it's not difficult to find examples of over-the-top trips full of jaw-dropping moments. But over the last decade, savvy travelers have begun to seek something more, shifting away from flash and fanciness to purposeful, immersive pursuits. This issue showcases those deeper kinds of "wow" experiences, from trips that make a difference to sustainably focused hotels and personal reports from staffers on their own impactful experiences. Here's to a lifetime of wow moments, wherever you go.
GO BIG, GIVE BIG »
10 momentous trips that make a positive impact.

A FAMILY AFFAIR »
Virtuoso sustainability ambassador Jessica Hall Upchurch, affectionately known as "Mother Earth with a lasso," shares how purpose-driven travel can make the world a better place.
STUDY ABROAD »
Zander Galli's far-reaching gap year – between middle school and high school – opened his eyes to a world of wonders.

CHAIN REACTION »
Dramatic mountains and coastlines, dueling cultures, and the ever-present wind in your hair link up for a great bike ride through Slovenia and Croatia.

READY FOR A THRILL »
Lakefront charm and heart-pumping pursuits in Queenstown, New Zealand.