Bem-vindo à Cidade Maravilhosa
(Welcome to The Marvelous City)
Rio de Janeiro  sensuous, chaotic, sophisticated, open and friendly—is one of South America's gems. The Cidade Marvilhosa (Marvelous City), as Brazilians call it, displays a unique blend of contrasts: old and new in an urban metropolis nestled around mountains and a huge forest.
Rio is a feast of natural and urban attractions that can be enjoyed as sweeping panoramic views or inspected up close. Most visitors opt for a panoramic view as an introduction to the city. The best spots are Pao de Acucar (Sugar Loaf) and Corcovado Mountain, though the more energetic might choose to hike up Gavea Rock. A gondola can take you up Sugar Loaf for a 360-degree view of Rio and Guanabara Bay.
The landmark statue of Christ with outstretched arms on Corcovado Mountain is reached via a funicular train. On a clear day, you'll be rewarded with wonderful views of the city, the bay and Tijuca Forest. For Gavea Rock, it is best to go with a local friend or a tour guide.
Walking Rio's Colorful Neighborhoods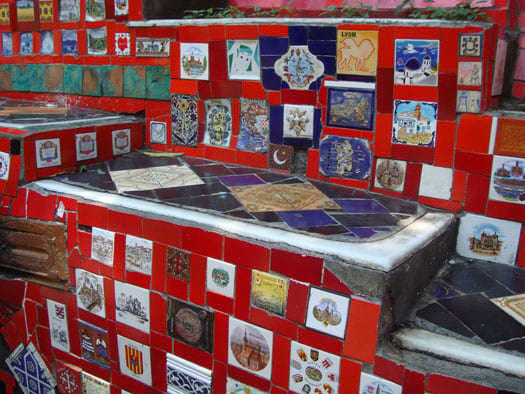 You can combine people-watching and sightseeing by taking a walk through several neighborhoods. Rio's Centro is a great place to see a mix of old and new, colonial and modern. The Arcos da Lapa—arches that were part of an immense aqueduct built in the 1700s—are at the center of Lapa, a bohemian neighborhood in Centro that has made a full comeback after years of neglect and has a number of good antiques stores, bars, clubs and restaurants.
West of Lapa is the hilly Santa Teresa neighborhood, with its narrow, winding streets, stone stairs and late-19th-century houses—it has an artistic, counterculture feeling, and there are many interesting small galleries and museums to explore. You can take the scenic bondinho (streetcar) or a cab up to Santa Teresa.
If you choose to spend some time indoors, you'll find that Rio's museums run the gamut from the culture-oriented Edison Carneiro Folklore Museum to the campy Carmen Miranda Museum. The National History Museum and the National Fine Arts Museum are must-sees, as is the Contemporary Arts Museum in Niteroi.
For a look at Rio's religious heritage, visit the Igreja de Nossa Senhora da Gloria for its art and impressive architecture, as well as the Sao Bento Monastery.
The Great Outdoors
At some point during your stay, you'll want to visit the legendary beaches in the Zona Sul neighborhoods. The most famous beaches are Copacabana and Ipanema, though Leblon (next to Ipanema) and Leme (next to Copacabana) are worth experiencing also. Cariocas, as residents of Rio are called, are fun-loving and charming, and the cast of colorful characters you'll see strolling and lounging on the beach is just about the only thing that can compete with the city's spectacular natural setting.
For adventurous types, hang gliding is an absolute must. When conditions are right, hang gliders fly from Pedra Bonita, one of the peaks in Tijuca National Forest. Depending on the thermal currents, they circle above the forest for 10-30 minutes before landing gently on the sands of Sao Conrado beach.
With natural wonders such as the Pao de Acucar, Corcovado and Pedra Bonita, climbing is a popular activity in Rio and the options for climbers are nearly endless. About 1,000 routes have been marked, and the scenery is usually breathtaking.
If you'd rather remain on the ground, there's also good hiking (with waterfalls that offer the prospect of a refreshing dip) on the many trails that wind through Tijuca National Forest.
Pro Tip:
Arrive on time for business appointments, but don't arrive on time for dates or informal social gatherings. If you arrive at a house party at the appointed hour, the hosts will still be getting ready. Cariocas are also famous for inviting people to their homes when they first meet them, but don't take the invitation literally.