Travelers headed to St. Martin have a chance to witness a seamless fusion of two starkly different cultures. The island is split nearly in half by French and Dutch powers, although no formal boundary exists so that locals and visitors can freely roam these separate territories to take in their unique architecture, cuisine and traditions. The foundation of life on St. Martin, however, lies in the pristine coastline and abundant wilderness. What has resulted from hundreds of years of peaceful living is a truly unique French-Dutch nation with fascinating cuisine and chic shops.
If you had to pick a single island to represent the variety of travel experiences available in the entire Caribbean, St. Martin/St. Maarten would be a good choice. Its two nationalities provide a good sampling of the different European cultures that have left their mark on the West Indies.
The island has coral reefs for diving and snorkeling, spreads of beautiful white sand for sunbathing and all the duty-free shopping you could dream of. It's partly exclusive and upscale, with pricey restaurants and boutiques, partly geared to the mass tourism of cruise ships and large resorts. You will also find an island that's well connected to the outside world, with fine hotels, glitzy casinos, Wi-Fi access island-wide and excellent restaurants.
Philipsburg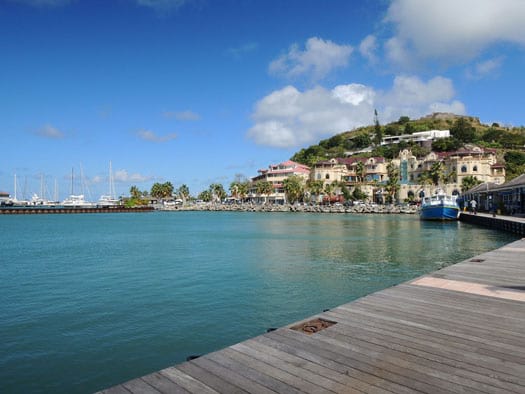 Located at the southern port, Philipsburg is St. Martin 's Dutch capital, and although it is only one mile long, it features great shopping retreats. Founded in 1763 by John Philips, this relatively bustling city contains numerous historical buildings and charming cafes. After the main harbor was dredged to make room for more Caribbean cruise ships and freighters, the excess sand was used to reconstruct Great Bay, where many tourists bask in the warm sunlight. The main street is closed to automobile traffic, making it a long lane for outdoor shopping and beachside promenades. Visitors can purchase luxurious perfume and pearl jewelry before heading back on their shore excursion to see some of the islands geological sites.
The nearby Great Salt Pond is a natural wonder and proved to be a vital asset for Dutch sailors that arrived on the island centuries ago. A great food preserver, salt is extremely useful for long voyages and receives a continuous supply of the mineral from a subterranean connection with the seawater. Although the food on St. Martin is preserved with refrigeration today, maritime enthusiasts on a St. Martin cruise will certainly appreciate the abundance of these crystal salt ponds.
Pro Tip
Don't be surprised by nudity on some beaches, especially in St. Martin. There are even clothing-optional hotels there. No cameras are allowed on the nude beaches.
Note: St. Martin/St. Maarten sustained widespread damage during Hurricane Irma in September 2017. Recovery will take months or even years. Travelers should investigate current conditions prior to planning a visit.