Exclusive Luxury
A luxurious villa and an immaculate beach. Leisurely dinners alongside movie stars and supermodels. A vacation could be worse. Prepare to be enchanted by St Barts landscape, seaside, and architecture, where quaint and contemporary, man-made and natural mingle easily.
St. Barthelemy (better known as St. Barts or St. Barth) first came into the spotlight back in the 1950s when David Rockefeller and a few other prosperous individuals built holiday homes there. Slowly but surely, jet-setters from two continents followed suit, and St. Barts was on its way to becoming the fashionable getaway for the rich and the famous.
They don't choose St. Barts for the company, though that's certainly part of the allure: The beaches are secluded, the water is warm, and the landscape of hills and ravines is lovely. The island is sophisticated yet laid-back, with a decidedly French ambience. The people of St. Barts are adept at providing comfort, quiet and security to their well-heeled visitors.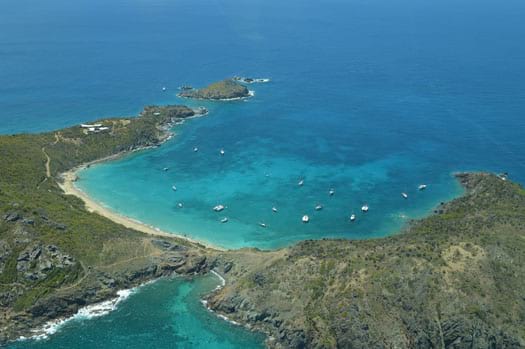 A drive around the island reveals breathtaking vistas and sleepy villages. Gustavia is a charming port city, with interesting relics of the island's Swedish and French heritage. Simple museums add to an understanding of island life and history. Nature hikes and a sail in the marine reserve display the island's beauty from other viewpoints.
The lookout point at the top of Petit Morne gives a spectacular view of two bays, nearby islands and a sprinkling of little cays, with a built-in map for identifying them. Gustavia teems with charm and history. The Anglican and Catholic churches, the Swedish clocktower, Fort Gustaf, Town Hall, the old Mayor's house, the Brigantin—all are within walking distance.
Though hiking, tennis and horseback riding give you outdoor recreation options, beach and water-based activities are the most popular and most plentiful. These include snorkeling, sailing, diving, fishing, kayaking, paddleboating, Jet Skiing, several forms of surfing, and plain old lazing or beachcombing.
For less-strenuous physical pursuits or for relief afterward, pamper yourself at one of the island's superb spas.
Pro Tip:
A word of warning: If you are lucky enough to recognize a celebrity behind a pair of sunglasses, don't expect to collect an autograph. Those breaking the island's law of studied nonchalance will likely be deported.