India's rich history and cultural legacy has created a wealth of handcrafted items. Among India's best buys are fabrics (especially silks), clothing and shawls, paintings and prints, religious iconography, dhurries, Oriental carpets, dolls, musical instruments, tea, saffron, batiks, fossils, and items made of brass, wood, marble, copper, bronze, jute, crystal, papier-mache and bamboo.
Well-made souvenirs are available from most good hotels, but for the real Indian buying experiences, head to any local market. Be prepared to haggle, and know prices automatically increase for tourists.
Delhi is the country's foremost shopping center. Colorful bazaars in the old and new city are fascinating places to shop or just to browse for jewelry or handicrafts made of brass, wood and leather. Items made in the famed Jaipur kundan style—precious stones and gems are inlaid into gold—are particularly popular. Silver and gold jewelry, metalwork, terra-cotta, rugs and carpets also are available.
Delhi has an abundance of excellent outdoor markets, bustling with merchants and shoppers. Some markets specialize in specific types of goods, such as fabrics, crafts or produce, while others boast an often dizzying variety of goods.
If you're a focused shopper, you'll love the specialized markets, like those selling spices and silver off Chandni Chowk, vegetables and fruits in Azadpur, furniture in Kirti Nagar or old books in Daryaganj on Sunday.
Even if you have only a mild interest in shopping, it's worth it to check out at least one market, if only for the spectacle of it all. Savvy bargain-hunters and curio-seekers could spend a week just combing the miscellany of merchants.
Pro Tips
Remember that bargaining is expected in the bazaars and smaller shops. A good rule of thumb is to negotiate to one third the initial asking price. Be prepared for the vendor to act shocked at your ridiculously low-ball counter offer and walk away if the merchant won't bargain. Chances are good you'll find an identical item at the next stall; in most cases, the simple act moving on will make the merchant reconsider.
Gem dealers will tell you that you can buy gems to take home for profit… and that is true, but you can easily get burned. Unless you know a lot about gems, do not attempt.
Avoid vendors selling animal-derived objects—tiger skins, elephant tusks—because trade in most animal products is illegal.
Any item more than 100 years old is classified as an antique, and you will need an export license to take it home.
Counterfeit and copycat goods abound. If you see brand-name products in unexpected places (Louis Vuitton bags offered by street vendors, for example), chances are, they are not legitimate.
Markets vary in which days they close, so it's a good idea to double-check with locals before heading off to shop.
Explore More in India
Umaid Bhawan Palace
Experience the height of luxury in a royal palace.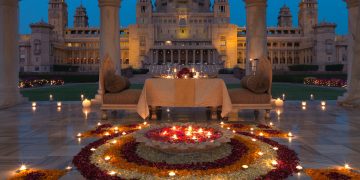 The last of the great palaces of India and one of the largest private residences in the world – set... read more
Exceptional Experiences in India
Enlightenment, Bollywood, and Biking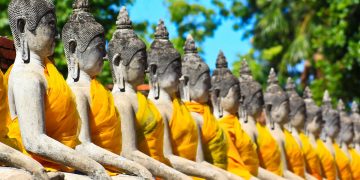 Take a spiritual journey through India, experience Bollyood first-hand, and bike the caravan routes of Rajasthan. Exceptional experiences abound.... read more