By Day
I.D.I Travel – Italian Dream Inc.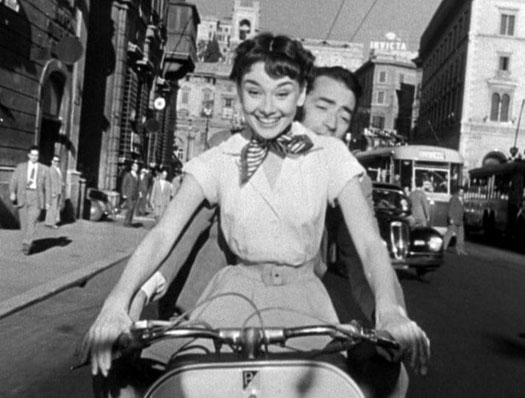 Hop on an Authentic Vintage Vespa and be transported together with your personal driver on to the real life set of your own 'Roman Holiday'.
Make sure you watch this classic movie starring Gregory Peck and the beautiful Audrey Hepburn before you leave for your own Roman Holiday because you're going to visit the piazzas, sights and streets that this Hollywood blockbuster made so famous.. and you're going to do it exactly as Audrey Hepburn did… On the back of a Vintage Vespa!
Your expert driver will take you along the best routes to discover the squares and the fountains of Rome, bringing to life the history and the secrets of this ancient city. You'll head along the Apian Way, whizz past the Colosseum, Trinità dei Monti, Piazza del Popolo, Piazza Navona, all the way on to Piazza Venezia, not forgetting the 'Bocca della Verità' literally translated as the mouth of truth – and you'll soon find out why!
The tour will be led by a private bi-lingual guide and will take in all the most important monuments and neighborhoods in Rome. Driven by professional Vespa drivers, passengers are assured complete safety and peace of mind. N.B. customized itineraries available on request. Vintage Fiat 500's or golf carts are also available. Maximum speed 30 km per hour, 5 scheduled stop offs.
By Night
IC Bellagio – Italy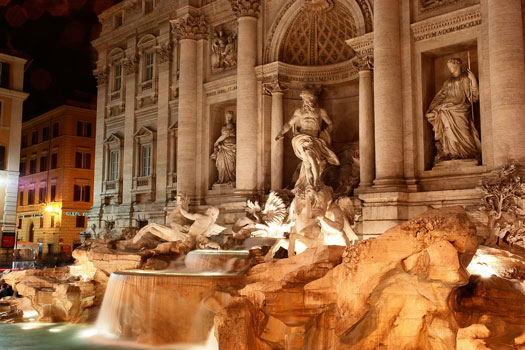 When the sun goes down, Rome comes alive – its monuments and palaces lit up like a theater stage. Hop on the back of a vintage Vespa and experience Rome at its most romantic, under the cover of darkness…
In her evening clothes, Rome's charms are even more apparent. There's no better time to buzz down her less crowded streets and no better means of transport than the vintage Vespa – the scooter the New York Times calls "the most completely Italian product since the Roman Chariot." On the back of this iconic two-wheeler, you'll take in Rome's must-see sights like the Colosseum and the Trinità dei Monti dressed up in spectacular spotlights; you'll scoot through its lively squares like the Piazza del Popolo and Piazza Navona with their majestic monuments and burbling fountains all illuminated; and you'll follow the Eternal City's pleasure-seekers to trendy Trastevere to soak up the nightlife scene. In the capable hands of our expert guides and drivers, you can rest assured that everything will be done to ensure your safety and comfort from start to photo finish.
(Tour duration: 4 hours – One expert Driver and one guest per Vespa, speeds never exceeding 18 miles/30 km per hour)
Rome Rome, Metropolitan City of Rome, Italy
Explore More in Italy
All
Cruises
Attractions
Hotels