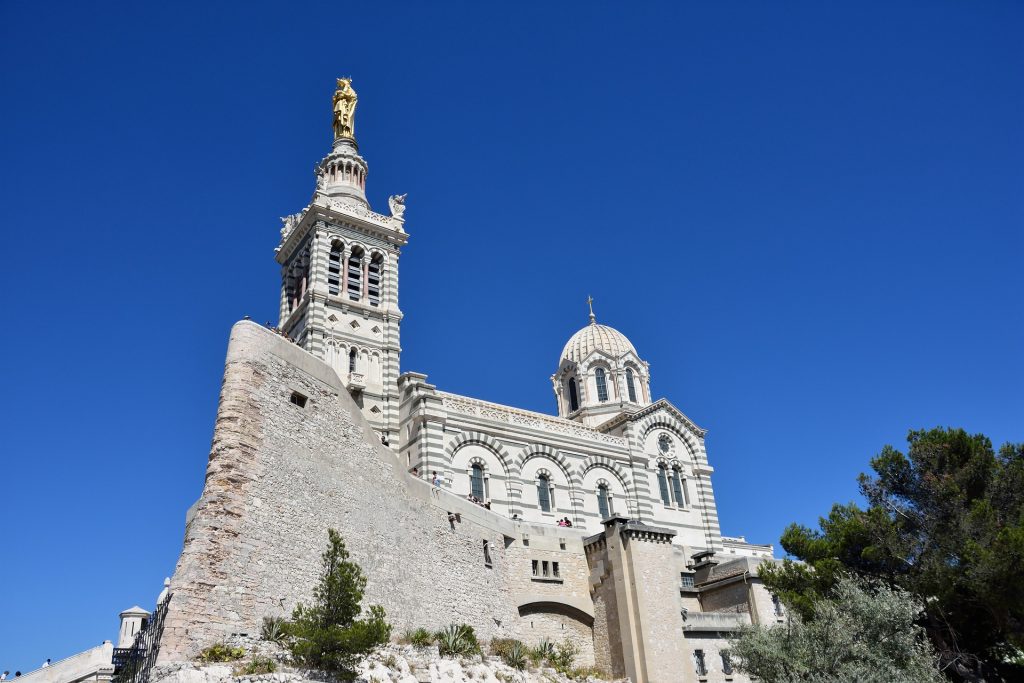 A hike up to Notre Dame de la Garde will reward you with breathtaking views of the city.
The first chapel built on this site was erected in 1214; it was replaced with the existing Romano-Byzantine basilica in 1864. The 36 foot high statue of the Virgin Mary protects sailors and fisherman, watching over the Vieux Port from atop the bell tower.
The basilica itself  is covered with spectacular mosaics inside and houses an outstanding collection of ex-voto objects with a seafaring theme. A restaurant and gift shop are also present on site so you can grab a bite and souvenir before heading back down to the city if you like.
The pathway to the Basilica begins at Place Castellane and is clearly marked. If you prefer a ride to a walk, a mini tourist train heads up regularly from the Vieux Port.
Basilique Notre-Dame de la Garde Rue Fort du Sanctuaire, 13281 Marseille, France
Explore More in Marseille
La Bastide de Gordes
Palatial accommodations with breathtaking views of the valley.
From its spectacular vantage point, carved into a rocky outcrop in the heart of Luberon, Provence, the palatial La Bastide... read more
InterContinental Marseille
Sophistication, gourmet dining, luxurious spa, and sweeping views
The epitome of luxury, this grand hotel occupies a striking building adjacent to Marseille's historic Panier district.... read more