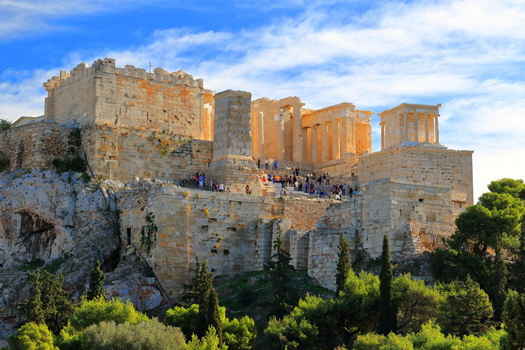 To view the Parthenon and Erechtheum on the Acropolis, or the Agora, or the city's wealth of museum treasures is to experience some of the supreme expressions of Western culture.
Sights in ancient Greece and Athens, especially, take on a larger importance than in most other places in the world. They are histories of democracy, Western civilization and philosophy firsthand. You can't help but walk around the Parthenon and the rest of the Acropolis and dream about the great ones who have come before you and whose footsteps you're in.
The Acropolis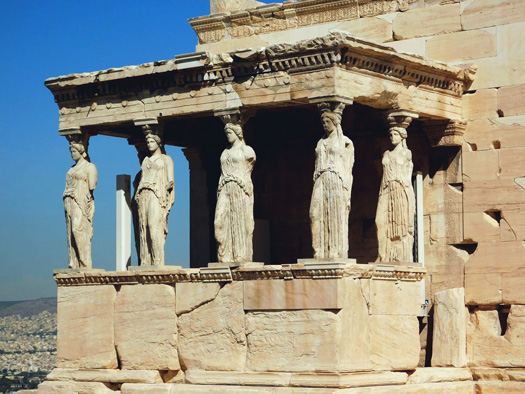 Mention Athens, and most people will think of the Acropolis.  In spite of the ravages of weather and pollution, it remains a great experience for visitors. One cannot help being moved by the grandeur of its setting and architecture.
In 480 B.C., the Persians destroyed the Acropolis. Later, beginning in 447 B.C., the Athenians buried much of what remained and rebuilt it as it now stands: Propylaea, Parthenon, Erechtheum, Temple of Athena Nike. Subsequent additions by the Franks and Turks have been removed, permitting visitors to get a better impression of what it was like in its classical form.
The new Acropolis Museum is a purpose built museum by architect Bernard Tschumi, to house the archeological findings related to the Acropolis Hill located in the historical area of Makriyianni, south east of the Rock of the Acropolis. Only 300 meters from the Acropolis and approximately 2 kilometers from Syntagma Square, Athens main city square and public transport hub, the Museum is directly linked to the Athens Metro by the Acropolis Station, located on the eastern border of the Museum.
And Beyond
You'll also find many other important ruins in the vicinity of the Acropolis. The Plaka is Athens' old section. There you can see Hadrian's Library, the Lysicrates Monument, the Tower of the Winds, and many interesting old houses. Also Hadrian's Arch and the columns left standing from the Temple of Olympian Zeus. Mt. Lycabettus is also near the Acropolis. About 1000 feet high. Crowned by the Church of St. George. Provides a marvelous view of the area.
Below the Acropolis, the Central Food Market brims with stalls piled high with strawberries and broccoli in spring or peppers and zucchini in summer. Out front, temporary stalls sell nuts, dried figs and Greek honey–that favorite staple of the Olympian gods.
Constitution Square. Government buildings, the Royal Palace and gardens, the Stadium and many sidewalk cafes. Watch the famous Evzones and the changing of the guard that happens every hour on the hour. Two Byzantine churches worth seeing: the Kapnikarea and Aghios Eletherios. Both built in the 11th century.
Acropolis of Athens Athens 105 58, Greece
Explore More in Greece
Hotel Grande Bretagne
Opulence in the heart of Athens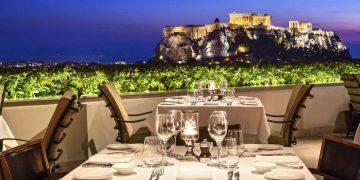 The Hotel Grande Bretagne, a historic landmark situated in the very heart of Athens, offers breathtaking views of the famed... read more
King George Hotel
Refined Luxury & Panoramic Views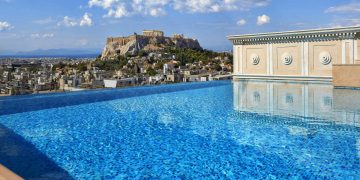 One of Athens' most prestigious hotels, the King George, is situated right in the heart of the city with panoramic... read more